English Below
──────────────────────────────────────────────
2018年1月3日(水)~8日(月) 12:00-19:00(最終日-18:00)
福王寺琉華紅型展「きものと帯の風景」
──────────────────────────────────────────────
1.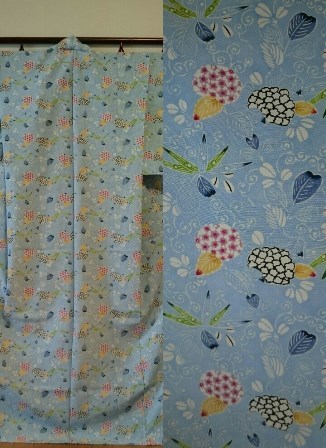 「白南風」

1.「白しら南風はえ」古琉球紅型の柄をアレンジ復刻しさわやかな色合いに染めた着尺です。

 古典でありながら新しい、品がありながら愛らしい柄に先人のデザイン力の高さを感じます。
2.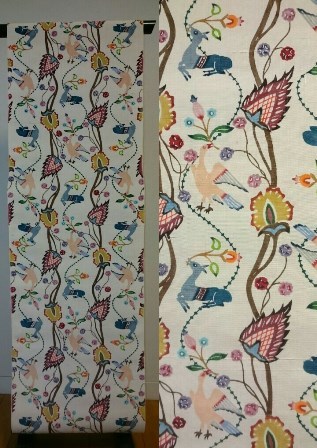 「祝宴」

2.「祝宴」古い木版捺染の柄をアレンジして帯に仕上げました。花、鳥、鹿の吉祥柄に

 たくさんの色を挿しました。
3.
「サマルカンドの万華鏡」

3.「サマルカンドの万華鏡」ウズベキスタンを旅した時に見た美しいタイルや布の模様から
 アレンジした藍型帯に仕上げました。
◇展覧会概要
 紅型染と言うと沖縄の伝統工芸であることはご存知の方も多いと思います。今日では、
紅型染は沖縄の琉球びんがただけでなくその伝統技法を受け継いで京紅型や江戸紅型と
呼ばれるものも含め各地でそれぞれの成長を見せています。
 私について言えば沖縄出身でも在住でもありません。けれど、二人の素晴らしい
紅型染の師に出会ったことで紅型の魅力にのめり込み、はや20数年経ちました。
 伝統的な古琉球紅型に魅了され、それを踏襲しようと心掛けて開催した前回の
第1回個展から8年を経て、今回の第2回個展はその魅力はそのままに私なりのアレンジや
創造を加え発展をさせることができるか試みました。
 紅型でありながら私の求める格調の高さと愛らしさの共存が発現している作品となっているでしょうか。
どうぞご高覧の上ご感想をいただければ幸いです。
そしてまた次の進化を楽しみにしていただけるよう日々を過ごしていきたいと思います。
◇福王寺琉華プロフィール
1992
紅型作家 桧山典子氏に師事
2000
古琉球紅型作家 故田中琉北氏に師事
2001
武蔵野美術大学(旧)短期大学部テキスタイル科修了
2005
SEIWA染色教室講師に認定
紅型染講座講師を務める/カルチャーセンター蒲田産経学園
2007
第1回四人展「光る布展 IN TOKYO」開催/銀座清月堂画廊
サンフランシスコ友好手工芸展出品
2008
第2回四人展「光る布展 IN PARIS」開催/パリ・ベルタンポワレ
2009
9月より福王寺琉華紅型教室主宰/東京市ヶ谷 自宅
ネオジャパニズム第3回ウィーン展覧会 オーストリア芸術協会
クリスタル賞受賞/ウィーン・パルフィー宮殿
第64回新匠工芸会 入選/東京都美術館・京都市美術館
2010
日仏現代美術世界展 入選/青山スパイラルガーデン
第3回四人展「光る布展 IN TOKYO」開催/銀座清月堂画廊
第1回個展「幸せの布紅型展」開催/山脇ギャラリー
第65回新匠工芸会 入選/京都市美術館
2011
第66回新匠工芸会 入選/京都市美術館
3回講座『紅型染を楽しむ』を開講/千代田区九段生涯学習館
12月より紅型・型染め講座を定期的に開講/WAnocoto表参道
2012
第67回新匠工芸会 入選/東京都美術館・京都市美術館
2013
平成24年度全国伝統的工芸品公募展 入選/青山スクエア
第68回新匠工芸会 入選/東京都美術館・京都市美術館
2014
教室作品展「染め遊び」開催/山脇ギャラリー
第23回全国染織作品展 入選/横浜シルク博物館
平成26年度全国伝統的工芸品公募展 入選/青山スクエア
2015
第4回四人展「光る布展 IN TOKYO」開催/銀座清月堂画廊
2016
第24回全国染織作品展 入選/横浜シルク博物館          
2018
本第2回個展「着物と帯の風景」開催予定/同潤会ギャラリー
HP
──────────────────────────────────────────────                           

3rd(Wed)~8(Mon)‐January 2018 12:00‐19:00(The final day until 18:00)
Ryuka Fukuoji 2nd Bingata Exhibition "Landscape with Kimono and Obi"
──────────────────────────────────────────────

1.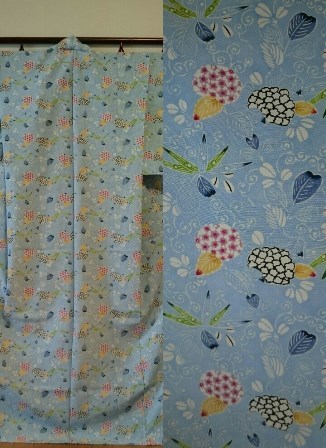 Summer Evening Breeze
1. In this kimono, an old 'Ryukyu' Bingata pattern meets the fresh color palette. The old embraces the new – I believe that this owes to the generations of designers who managed to create something cheerful and graceful that wouldn't grow old.
2.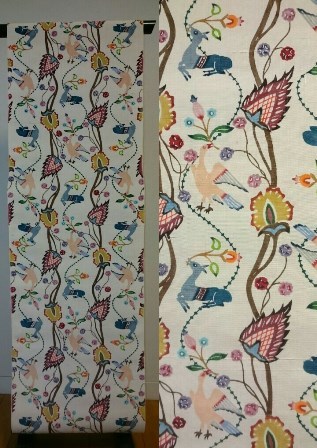 Celebration
2. I have re-arranged an old woodblock print pattern here, bringing out this colorful obi with good-fortune motifs – flower, bird and deer.

3.
Kaleidscope of Samarkand
3. I have got an idea for this obi from my trip to Uzbekistan several years back. No wonder it has some resemblance to Islamic tiles and fabrics.

◇ Description
Some of you may know that Bingata is a traditional dyeing of Okinawa used to be called Ryukyu Kingdom of south isles. Later on it spun out of Okinawa and was developed elsewhere into unique local adoptions such as Kyo-Bingata (in Kyoto) and Edo-Bingata (in Tokyo). Neither I myself is from Okinawa, or had had connections to textile business until I started following the footsteps of those two amazing artists as my teacher, mesmerized by their works: Noriko Hiyama and Ryuboku Tanaka. Some twenty years have passed surprisingly quickly since then.
Now after eight years since my first solo exhibition which was meant to show what I thought traditional Bingata is, the theme for this second exhibition is "blending" of conflicting ideas. That is to say, I firstly tried to translate the tradition to our modern life in my own terms while keeping the same old charm. Another project I pursued (and still do) was a search for core elements of design which matter to me, and hopefully to wider audience too. I have narrowed them down through observations and experiments: elegance and charm – which are often hard to sit in a right balance. I believe this exhibition would be a full embodiment of my intention and hope you could enjoy the finest brew from my careful "blending" to the last sip. Your honest feedback would be my power for next creative progress (and a third exhibition!).
◇ About the Artist / Biography
Ryuka Fukuoji (福王寺 琉華) was born in Yokohama in 1956. She took interest in Bingata, a traditional stencil for dyeing fabrics originated in the kingdom of isles which is used to be called Ryukyu (琉球) located in the south sea between Japan and China, in 1992 at the workshop taught by an artist, Noriko Hiyama. While coping with her busy life raising three children, her passion was fueled further under the guidance of a classical Bingata artist, late Ryuboku Tanaka (田中 琉北) in 2000, from whom she inherited one Chinese character to her artist's name Ryuka(琉華), although she isn't from the Japanese southern isles or she had never been formally educated as an artist or trained as a craftsman before she learned art academically at Musashino Art University from 1998 to 2001.
With her new diploma, she started to teach Bingata at local culture schools including care homes for the disabled to stimulate senses and interests in handcrafting and traditional textiles, while building up her own portfolio. She runs an independent workshop at home from 2009 for those who share the passion for Bingata among ex-participants at those culture schools and, about once in a year or two, holds exhibitions either solo or in four-artist group called Hikaru Nuno which means fabrics of radiance. Some of her works were brought in to public competitions, domestic or international, and earned her prizes.
Her form of expression varies – Kimono, Obi and Obi-age are most traditional medium of Bingata, but recent artists like her often add some modern touches both in medium (such as handbags and home accessories) or in color and pattern. Having said that, her creations will never leave the tradition behind even after exploring those new applications, which you will see at this exhibition in 2018.
Please visit bingata-hikarununo.jimdo.com and bingata-fukuojiryuka.amebaownd.com for her portfolio, workshop details and updates.
◇ Artist's Activity Timeline
Diplomas:
2001
Diploma in Textile, Musashino Art University [Tokyo]
Licenses:
2005
Approved Teacher at SEIWA*
* A Japanese dye and leather crafting material company
Solo Exhibitions:
2010
Shiawase no Nuno ('Happy Cloth') / Yamawaki Gallery [Tokyo]
2018
Landscape with Kimono and Obi / Gallery Dojunkai [Tokyo]
Group Exhibitions:
2007
Hikaru Nuno 1st Exhibition / Ginza Seigetsudo Gallery [Tokyo]
2008
Hikaru Nuno 2nd Exhibition / Espace Culturel Bertin Poirée [Paris]
2010
Hikaru Nuno 3rd Exhibition / Ginza Seigetsudo Gallery [Tokyo]
2014
Bingata Workshop 1st Exhibition 'Dye and Play' / Yamawaki Gallery [Tokyo]
2015
Hikaru Nuno 4th Exhibition / Ginza Seigetsudo Gallery [Tokyo]
Public Exhibition and Crafting Competition:
2007
Exhibited, San Francisco Japanese Crafting Exhibition [San Francisco]
2009
Awarded Crystal Prize by Austrian Art Association, 3rd Wien Neo-Japonism Exhibition / Palffy Palace [Vienna]
2009
Nominated, 64th Shinsyou-Kogeikai Exhibition / Tokyo Metropolitan Art Museum and Kyoto Municipal Museum of Art [Tokyo, Kyoto]
2010
Nominated, 65th Shinsyou-Kogeikai Exhibition / Kyoto Municipal Museum of Art [Kyoto]
Nominated, Exposition l'Art Actuel France-Japon / Aoyama Spiral Gallery [Tokyo]
2011
Nominated, 66th Shinsyou-Kogeikai Exhibition / Kyoto Municipal Museum of Art [Kyoto]
2012
Nominated, 67th Shinsyou-Kogeikai Exhibition / Tokyo Metropolitan Art Museum and Kyoto Municipal Museum of Art [Tokyo, Kyoto]
2013
Nominated, Japan Traditional Crafts Public Competition 2012, exhibited at Japan Traditional Crafts Aoyama Square [Tokyo]
Nominated, 68th Shinsyou-Kogeikai Exhibition / Tokyo Metropolitan Art Museum and Kyoto Municipal Museum of Art [Tokyo, Kyoto]
2013
Nominated, 23rd Dye and Weave Competition / Silk Museum [Yokohama]
2014
Nominated, Japan Traditional Crafts Public Competition 2014, exhibited at Japan Traditional Crafts Aoyama Square [Tokyo]
2014
Nominated, 24th Dye and Weave Competition / Silk Museum [Yokohama]
Workshops:
2005
Sankei Culture School, Kamata [Tokyo]
2009 – present
Bingata private lessons [Tokyo]
2011
'Enjoy Bingata' Sessions / Chiyoda Continued Learning Center [Tokyo]
2011 – present
HP